Where to Use Pattern Glass?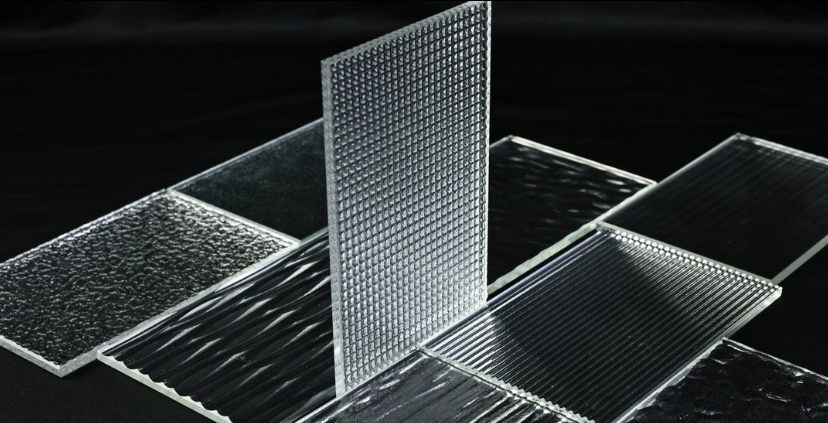 Beauty is in the eye of the beholder, but adding an extra layer of aesthetics to the window of a space most certainly enhances its allure. Pattern glass is a type of decorative glass art that has existed for centuries. By etching a distinctive design onto a glass surface, and adjusting the depth and breadth of the glass pattern, the designer or artist augments the material's appeal and creates a specific atmosphere and emotion with this form of glasswork. It is important to know that selecting the right pattern glass can significantly elevate the ambiance and spatial distinctiveness of your space when designing its interiors.
Looking to use pattern glass for a touch of sophistication and artistic flair to your interiors?  Read on to learn where to use pattern glass and how it can be effectively utilized in your space!
Main Types of Pattern Glass
Before we explore the uses and applications of pattern glass in different locations, it is crucial to understand the 2 main types of pattern glass that are available on the market: clear pattern glass and pattern glass panels. With pattern glass panels, you can refine your space while maintaining privacy. Clear pattern glass, on the other hand, is completely transparent, providing an uninterrupted view with maximum natural light. It is an excellent choice for any windows, doors, skylights, mirrors, and partitions.
Where Can Pattern Glass Be Used?
The versatility of pattern glass allows it to be utilized in a wide range of applications. It can transform the interior space into a stunning showcase of style and personality. From luxurious hotels and high-end stores to office spaces, showrooms, and restaurants, pattern glass offers a brilliant solution for commercial spaces to enhance aesthetics while incorporating functionality.
Hotels & Luxury Stores
Pattern glass offers an opportunity to create exquisite and distinctive features in hotels and luxury stores. Crafting front doors, privacy walls, and stunning glass features with intricate designs and textures of pattern glass can create a sense of luxury and sophistication. Additionally, it serves as a decorative element in splashbacks, patio doors, and tables, further enhancing the overall ambiance and making it an ideal choice for high-end establishments.
Interior Design & Architectural Uses
Pattern glass serves as a remarkable tool to enhance the aesthetics of any architectural structure. It can be laminated or tempered, making it suitable for safety applications. Moreover, it finds utility in insulated glass units, providing privacy in a building without compromising natural light. This versatile glass is commonly employed in interior applications, including doors, windows, wall cladding, table tops, counters, shelves, backsplashes, furniture, glass partitions, shower cubicles, and balustrades. It also extends its charm to glass and patio furniture.
Office Spaces
The use of pattern glass in commercial spaces such as offices and workplaces has witnessed a significant rise in popularity. With an array of captivating patterns available, it can be effectively utilized in dividers, partitions, markerboards, counters, glass railings, modular walls, and frameless glass doors. Its luxurious appeal and functionality contribute to creating visually appealing and pleasant office environments that can boost the team spirit and morale of any business.
Showrooms & Restaurants
Pattern glass proves to be an adaptable and pragmatic choice for accent walls in showrooms and dividers in restaurants. By incorporating glass facades, occupants can relish unobstructed views within naturally illuminated spaces. Furthermore, interior glass applications help natural light to flow through, elevating the dining experience and creating a welcoming atmosphere for customers. The utilization of partitions and other elements effectively eliminates boundaries, lighting up the products in the showcase with a sense of elegance.
Finding the Perfect Pattern Glass for Your Project?
If you're considering pattern glass as a solution to enhance your glass doors, interior design concepts, or architectural endeavors, contact our team to guide you. At Ultimate Reflections, our representatives are ready to assist you according to your unique requirements. Whether you're working on a small, medium, or large-scale project for a hotel, luxury store, restaurant, or office space, we're thrilled to help you find the pattern glass that perfectly aligns with your vision. Contact us today for a personalized quote that brings your ideas to life.
https://ultimatereflections.com/wp-content/uploads/2023/10/feature-image-for-Pattern-glass-blog.png
694
828
administrator
https://ultimatereflections.com/wp-content/uploads/2022/04/ultimate-reflection-logo.png
administrator
2023-10-09 01:36:10
2023-11-10 08:21:27
Where to Use Pattern Glass?